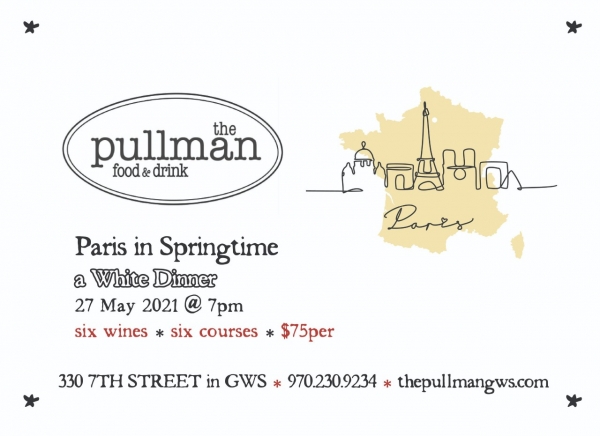 The Pullman is thrilled to announce another in a regular series of (irregularly scheduled) events that highlight wine, spirit and wine makers, and focus on all else that's great about sharing the table with good friends, food & drink.
Thursday, May 27th @ 7pm, join us for a "Diner en Blanc" celebrating Spring in Paris, and the renewal we all anticipate following that "dumpster fire" of a year.
The evening features six French wines paired with six courses from chef John Little and our kitchen team inspired and driven by the traditions of France and of Paris.
What, pray tell, is a "diner en blanc"?
Traditionally, it's an all-white dinner party that takes place in a different city around the world every year. This year: Glenwood Springs.
And traditionally, to find a seat at the table, diners have to receive an invitation code or sign up for the waitlist. Invitation codes only go to people on the guest list. Those that don't wear white get dropped from the list.
Please, consider yourselves invited.
Seating is limited and these things always sell out quickly.
Please call 970.230.9234 for more information about this event, as well as a coveted reservation. Dennis prefers that you call before between 2-5pm if you'd like to have meaningful dialogue about things.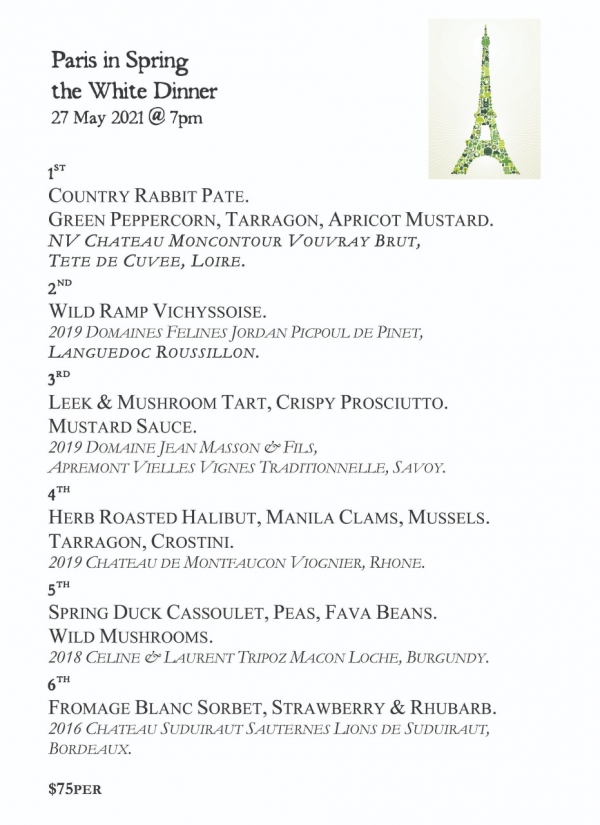 To watch the sea of white descend on the corner of 7th and Cooper, leaving their politics at home and flocking to the doors of the Pullman is to feel a sudden, urgent sense of community and purpose.
And be thankful for Paris, and Spring and renewal and wearing white before Memorial Day…